Educating in the Open: Philosophies, Innovations, and Stories
February 14–16, 2011 • Washington, D.C. or Online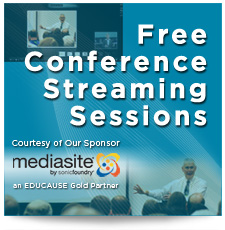 Join us for the ELI 2011 Annual Meeting "Educating in the Open: Philosophies, Innovations, and Stories," where we as a community will explore the theme of openness in Washington, D.C., February 14–16. If you can't attend in person, participate online.
We'll explore the many meanings of "openness": open textbooks, open curriculum, open research, and open resources, as well as openness to new ideas. Today's technologies have transformed the way we interact and engage with the world around us. New devices, services, and effective practices have increased access to information while new policies and philosophies that explore openness have accelerated that change. The growth of social networks and virtual communities has transformed the learning environment into an interactive place to share and build content and community using collaborative systems.
What are the opportunities and the challenges associated with educating in the open?
How might our learners benefit from becoming producers and consumers in this environment?
How can we, as a community of teaching and learning professionals, collaborate more openly?
What evidence do we have that the trend toward openness is having the impact we hope for?
Through a highly interactive and engaging program, we'll also examine the value of cross-campus collaboration in the creation of new learning environments and explore strategies to develop campus environments built on engagement, collaboration, authenticity, and co-creation.
Featured Speakers
Thomas Angelo, Director, Curriculum, Teaching & Learning Centre and Professor of Higher Education, La Trobe University, Melbourne, Australia
Richard Baraniuk, Founder, Connexions Project and Professor, Department of Electrical & Computer Engineering, Rice University
Randy Bass, Assistant Provost and Associate Professor, Georgetown University
John Campbell, Associate Vice President of Academic Technologies, Purdue University
Susan Henderson, Director, Florida Distance Learning Consortium
Barbara Means, Director, Center for Technology in Learning, SRI International
Diana Rhoten, Co-Founder & Director, startl.org
Jade Roth, Vice President, Books & Digital Strategy, Barnes & Noble
Candace Thille, Director, Open Learning Initiative, Carnegie Mellon University
Participating in the ELI Annual Meeting
We encourage institutional team attendance to the annual meeting to
Focus on an upcoming project
Stimulate and motivate innovators
Build cross-disciplinary collaboration
The ELI Annual Meeting is valuable for
CIOs
Academic administrators
Academic technology staff and directors
Teaching and learning center staff and directors
Learning technologists and designers
Librarians
Faculty members