Proceedings
The 2009 ELI Online Fall Focus Session, "Flattening the Classroom: Building Collaborative Learning Environments," engaged attendees in a two-day, in-depth exploration of the theme of collaborative learning, through presentations, lightning rounds, discussion sessions, and virtual interaction. Collaborations are learning venues that engage students in the active construction of collective knowledge and challenge them to examine issues from multiple perspectives.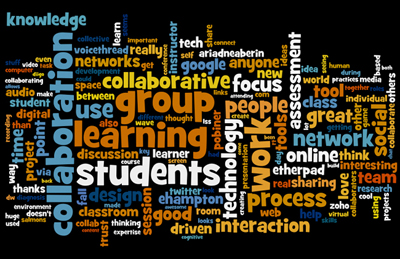 Throughout the 2009 ELI Online Fall Focus Session, attendees collaborated inside the Learning Space and developed a rich backchannel on Twitter, a microblogging site. This Wordle word cloud provides a quick snapshot of the Twitter conversation that took place during the event. To learn more about Twitter, read the 7 Things You Should Know About... Twitter.
Resources
Resources from the Focus Session include presentation slides, links, and PDF documents from general sessions and project parlors. Project parlor sessions featured a lightning round of campus projects promoting collaborative learning.
Background Resources
A collection of background resources on the theme of collaborative learning, including articles, videos, guides, and collections of links.
Reflection and Discussion Guides
A set of reflection and discussion guides to help foster local discussion, reflection, and planning to assist in planning and implementing collaborative learning strategies.
Focus Session Scenarios
A set of challenging scenarios to enable brainstorming on the practical aspects of moving forward with collaborative learning strategies.
Twitter
Twitter tweets from conference participants, offering "quick-byte" resources, opinions, and summaries.
Page Last Updated: Tuesday, October 20, 2009